Date of Letter:
1917/06/25
Summary:
Melville writes to his mother from his camp in England. He mentions receiving a letter from Brock, which he encloses for safekeeping. He also says that he wrote to his younger brother the day before.
Transcription:
Crowborough Camp
June 25th 1917

My Dear Mother-
I got your letter dated May 27th to-day, just a couple of minutes ago, and at the same time got one from Brock, which you will find enclosed. I'm glad he's got a good job and hope he keeps it.
It's raining to-day which makes things rotten and besides I'm mess orderly.
I wrote a letter home to Ed yesterday.

Love to all,
Melville.

Object ID:
2017.22.125
Click to Enlarge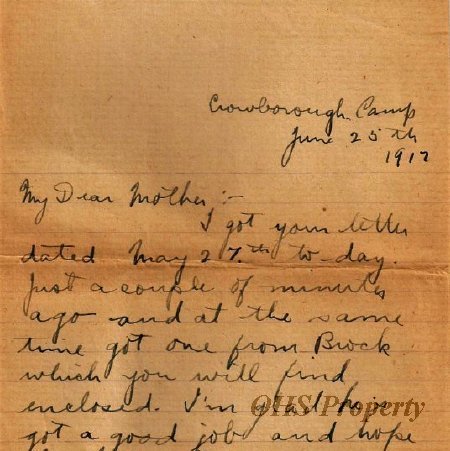 Munro Letters: June 25 1917; Melville Munro to Jessie Munro