Date of Letter:
1915/03/23
Summary:
In which W. F. Bradley invites Gordon Munro to an event on Friday evening.
Transcription:
March 23rd, 1926754

Your Imperial Majesty,-

What are you doing Friday evening? A few of the young damsels and hoboes are requested to attend a strictly temperance meeting at the edifice of the Rev. J. C Rush. The procession will be formed at the home of Miss Elma Roberston (Spinster) at 7.30 P.M. I may to pet off until midnight and at least 11 P.M.

We trust you will be in sympathy with this worthy object!

Yours remarkably,

W. F. Bradley P.P.S.

Object ID:
2017.22.30
Click to Enlarge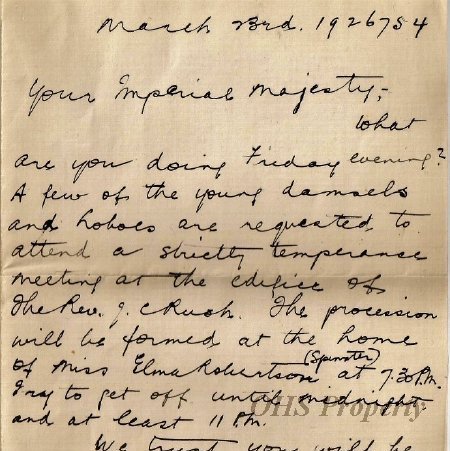 Gordon Munro Letters, Mar. 23, 1915